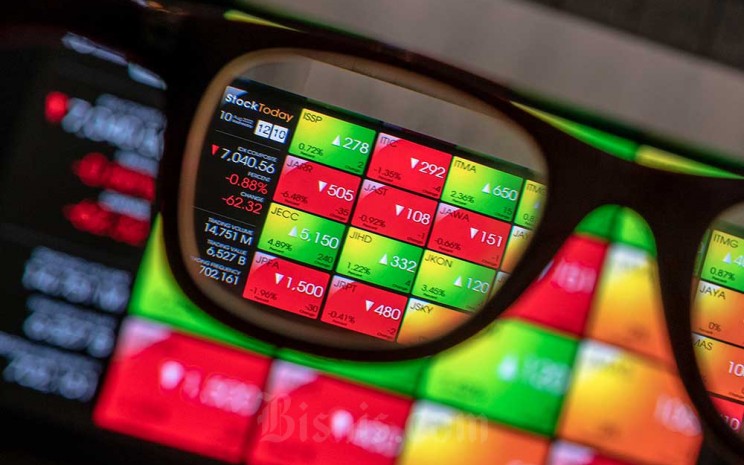 Jakarta – The Composite Stock Price Index (IHSG) opened in the red zone in today's trading, Wednesday (7/9/2022). Based on Bloomberg data, at 09.00 WIB, the IHSG opened lower at 7,219.12 or down 0.19 percent. IHSG touched its highest level at 7,220 shortly after the opening. Noted, 193 stocks rose, 181 stocks weakened and 190 stocks moved in place. Market capitalization was monitored at Rp9,457 trillion.
PT Gaya Abadi Perfect Tbk (SLIS) was observed to be the stock with the deepest decline of 6.96 percent to the level of Rp214 per share. Other stocks that were observed to fall were PT Sentul City Tbk (BKSL) which fell 2.78 percent to the level of Rp. 70, PT Harum Energy Tbk (HRUM) which fell 1.89 percent to Rp. 1,820 per share, and shares of PT Bumi Resources Tbk ( BUMI) which fell 1.85 percent to the level of Rp212 per share.
Director of MNC Asset Management Edwin Sebayang estimates the IHSG will move lower today. Some of the indicators that decreased the IHSG were the decline in the Dow Jones Industrial Average (DJIA) by 0.55 percent on the second day and also the decline in the Nasdaq technology stock index by 85.95 points or 0.74 percent on the seventh day.
The Nasdaq index has experienced a sharp decline, up to 1,116.2 points or 9.02 percent for seven days. In addition, there was also sentiment from the decline in the prices of several commodities, such as the price of CPO (Crude Palm Oil) as much as 3.03 percent on the eighth day. CPO prices have fallen sharply 15.15 percent for 8 days.
Then the price of gold also decreased by 0.49 percent on the second day so that it has decreased by 0.57 percent for two days. Then, oil prices also decreased 2.09 percent on the first day, along with coal prices which fell 2.70 percent on the first day.
"In the midst of rising 10-year US bond yields, approaching the 3.4 percent level," Edwin said in his research on Wednesday (7/9/2022). He recommended investors to pay close attention to PRIM and INCO shares.
Some of the stocks that are recommended to buy are ADRO, UNTR, ITMG, MEDC, BBRI, HRUM, ADMR, SRTG, SMGR, BBTN, and PTPP. Meanwhile, stocks that are recommended to be sold are AALI, LSIP, and SIMP.