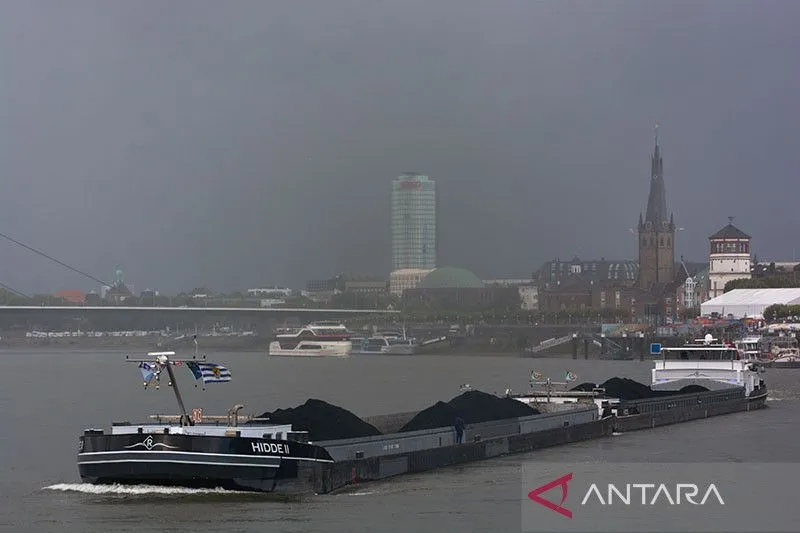 Jakarta – Tanzania's Mtwara port had been a cashew distribution center until late last year, but it is now bustling with coal hauling ships. Russia's invasion of Ukraine has prompted the world to race for polluting fuels. Tanzania usually exports thermal coal only to its neighbors in east Africa.
Sending coal farther afield was unimaginable, as the distance between mines in southwestern Tanzania and Mtwara, the nearest Indian Ocean port, was more than 600 km.
The energy crisis in Europe has changed all that.
The price of thermal coal – commonly used for power generation – has set a record due to the Russo-Ukrainian war.
The price spike came after many European countries lost access to key supplies of natural gas and coal from the biggest producer, Russia.
Buyers in Europe and beyond are now willing to pay a premium for coal from remote mines in countries such as Tanzania, Botswana and even Madagascar.
Rising demand for coal clashes with the climate agenda to move away from the most polluting fossil fuels.
"European players, after the Russian war broke out, will go to places where coal is," said Rizwan Ahmed, managing director of coal mining company Bluesky Minings, in Dar es Salaam, Tanzania.
"They are willing to pay a high price," he said.
Cargill has seen significant increases in coal shipments in recent months, said Jan Dieleman, president of the ocean transportation division at the commodities trading firm.
"Europe is competing with other buyers and the alternative is more expensive, namely gas," Dieleman said.
"Europe should be able to bring in coal and we will see huge flows into Europe from Colombia, South Africa and even further afield," he said.
While the opportunity to earn money from coal may be short-lived if the geopolitical winds change course, some coal-producing countries see the margins too large to pass up.
Thermal coal at the Australian port of Newcastle, the global benchmark, was trading at $429 per tonne on Sept. 16, well above $176 per tonne (Rp2.64 million) at the same time last year.
The price on September 16 was even slightly below the record high in March of 483.5 dollars.
There have been 13 coal-carrying vessels since November last year, when the Mtwara first shipped coal, according to a port official.
The last vessel, the MV Miss Simona, a 34,529-tonne bulk carrier, docked last week, loaded coal and set sail for France.
Since the end of June, there have been 57 cargo orders to transport coal from Tanzania, a jump from just two in the same period last year, according to analysis by Shipfix, a maritime and commodity data platform.
Global seaborne thermal coal imports hit a record high of 97.8 million tonnes in July, up more than 9 percent year-on-year, according to analysis by vessel brokerage Braemar.
That volume fell to 89 million tonnes in August, largely due to export disruptions from major producer, Australia.
Tanzania estimates that coal exports this year will increase to around 696,773 tons, while its production is predicted to increase 50 percent to around 1,364,707 tons.
The government plans to build a railway linking the coal-producing region of Ruvuma with Mtwara, said Yahya Semamba, acting secretary of the Tanzania Mining Commission.
Coal miners are enjoying the biggest profit margins amid pressure on the industry to cut production.
When the price per tonne of coal hits $75 by the end of 2020, their margin could be as high as $15 per tonne, according to Rob West, analyst at Thunder Said Energy.
However, when the price reached 400 dollars per tonne, the margin increased to 235 dollars (Rp 3.52 million) per tonne.
Despite the soaring prices, European traders are willing to pay double the prices offered by their Asian competitors, according to mining executives such as Ahmed of Bluesky.
Ahmed said his company is not currently exporting via Mtwara, but plans to do so. He claimed to have received requests from buyers in Germany, Poland and the UK.
Meanwhile, in Botswana, which has no coast, selling coal by sea was unimaginable, as most of its exports went to South Africa, Namibia and Zimbabwe.
"Before, logistics would have 'killed' us. But at today's prices, we will make this happen," said Morne du Plessis, CEO of Minergy, a coal mining company in Botswana.
Minergy has exported 30,000 coal by sea from the port of Walvis Bay in Namibia, and shipped coal by rail to the port of Maputo in Mozambique.
The island nation of Madagascar, the world's largest exporter of vanilla, could be a newcomer to the global coal market.
"Current prices are very supportive of the business of coal miners in Madagascar to export coal for the first time in the country's history," said Prince Nyati, CEO of one of Madagascar's coal companies.
However, new entrants must be prepared to withdraw or even stop production if market conditions become unfavorable, Nyati said.
Growing demand for coal and tight supply has changed trade routes, pushing use of the fossil fuel to a record high in July, according to Braemar research.
Imports of thermal coal by the European Union (EU) from Australia, South Africa and Indonesia, which previously supplied the Asian market, increased more than 11-fold in the four months after Russia invaded Ukraine, according to data from consulting firm India Coalmint.
The invasion has prompted EU countries to reduce their dependence on Russian gas, which has cut large amounts of its supply to the region.
The ban on imports of Russian coal in the economic bloc has added to pressure on power plants to seek alternative fuel sources.
Russia typically supplies about 70 percent of the EU's thermal coal needs, according to the Bruegel think tank in Brussels, and 40 percent of the EU's natural gas needs.
European countries temporarily put aside environmental agendas as they try to stockpile fuel and restart coal-fired power plants, ahead of winter.
"Big incentives have pushed coal and lignite production by 25 percent above last year's levels, despite a large number of factories being closed over the past three years," said Bank of America analysts on Europe.
The increasing use of thermal coal could disrupt the achievement of the world's carbon emission reduction targets.
In the European Union, burning more coal would increase carbon emissions by 1.3 percent a year if Russia's gas supplies were to stop completely, according to energy think tank Ember.
Governments in Europe say the changes are temporary, though it depends on how long the energy crisis will last.
Germany postponed the closure of several coal plants to ensure electricity supply.