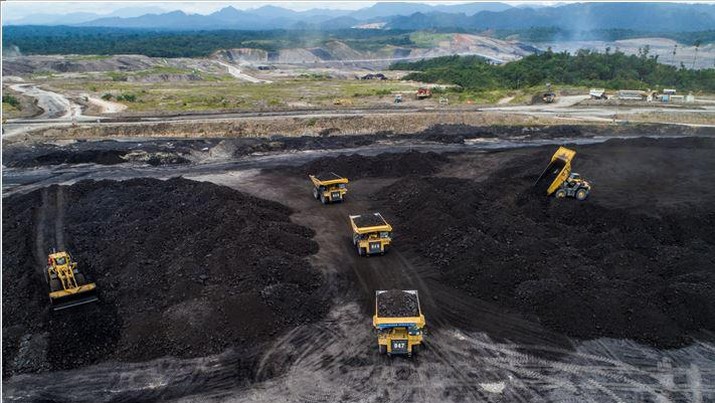 Jakarta, CNBC Indonesia – Coal prices have skyrocketed again. On Tuesday's trading (21/6/2022), the price of July contract stone on the ICE Newcastle (Australia) market closed at US$ 395.5 per ton. Missed 3.47%
The price is the highest since May 31, 2022 or so far this month. The increase also brought coal prices closer to the psychological level of US$ 400 per ton.
In a week, coal prices rose 19.6% point-to-point. In a month the price of coal still fell 6.1% but in a year the price shot up 216.2%.
The soaring coal price was driven by increased demand. Demand is believed to soar after European countries decided to reuse coal as a source of their electricity generation.
The decision was taken after Russia cut the supply of liquefied natural gas to many European countries. Germany, England, Austria, the Netherlands have announced they will use coal again. Following these countries, Poland and Bulgaria will also return to using coal in their plants to ensure energy supply.
European countries actually have other options to replace gas as an energy source in their power plants, such as nuclear. turned off and could not be turned on again easily and constantly.
Germany plans to retire their nuclear power plant by the end of this year. Berlin has also closed their last coal mine in 2018. Since then, Germany has replaced their coal supply to Russia.
Panzer Country is now looking for other coal supplying countries such as Indonesia because the European Union will ban coal imports from Russia on August 10.
Meanwhile, the Netherlands will remove the cap on coal power generation capacity. With the new rules, Dutch coal power plants will operate 100% until 2024 from the previous 35%.
The large demand for coal can be a problem because the supply of this commodity in the global market is running low. Moreover, a number of major producing countries cannot increase capacity quickly due to weather and other problems.
Corporate Secretary of PT Bumi Resources Tbk (BUMI) Dileep Srivastava said Indonesia's coal production, including Bumi, was still hampered by the weather so it was not optimal. In the January-March period this year, Bumi's coal production reached 16.3 tons, down from 19.3 million tons in the same period last year.
Indonesia's rainy season lasts longer this year as a result of La Nina. Heavy rains even occur every day in some areas in June, where Indonesia usually has started the dry season.
Indonesia is the largest exporter of thermal coal in the world. Heavy rains can disrupt the mining process in major coal-producing areas such as Kalimantan. In fact, Indonesian coal companies are enjoying strong demand from a number of countries.
"Supplies of thermal coal may remain tight in the short term because there is no expansion of production capacity in some areas. On the other hand, demand from consumers, especially India is increasing," said Deepak Kannan, head of global coal pricing at S&P Global Commodity Insights, as quoted from The Week Magazine.
China's brick production in January-May 2022 did increase and reached 1.81 billion. The production rose 10.4% over the same period last year. Beijing's coal imports fell 13.6% to 96 million tonnes in the five months of the year.
However, the use of coal in China is likely to increase as power plants begin to increase supply ahead of the winter season. This condition will make coal prices rise in the short term.
"The market works according to the demand and supply mechanism. Because of this, coal prices tend to climb forward," Kannan added.
However, some traders think otherwise. According to them, the price of coal may be approaching its upper limit.
"I can't imagine people being willing to pay $300-400 per tonne for coal and still be able to make a profit. Coal prices are close to their highs," the head coal trader from Poland told Montel News.
This statement was echoed by another trader from Germany. The current price of coal may not last long.
"People will find out what happened because the price is too high. Gas supply continues to decrease, so that the supply of coal is needed now," he said.